It's been a long time since we were in our startup phase - more than ten years! - but we still remember what it was like back then for tech companies: you were pretty much on your own. Our early years as a startup were fraught with tension as we struggled to make our way as a new technology company, making many mistakes along the way.
It is amazing how much the industry has changed since then, although not really surprising - rapid change is just par for the course when you're dealing with technology. What is surprising though is the change in the level of support for new companies, startups and entrepreneurs in this space. Entire new support structures have appeared in cities all around the world, evolving to better fit their local environment but all sharing the one key goal - to encourage the creation and growth of the technology sector.
Last weekend Brisbane played host to its first Startup Weekend, an international series of events that aims to bring startup enthusiasts of all kinds together for a 54 hour crunch to attempt to create an idea and bring it as close to fruition as possible. Originally started in Seattle, Startup Weekends regularly take place all over the planet and it was great to see one finally land in our home town.
River City Labs played host to the event, attracting around 100 people. The first round of pitches took place on Friday night, and teams coalesced around the ones that resonated. In the end there were 10 separate teams working furiously over the weekend.
Mammoth's own David Harrison was there for the event, participating as a coach along with a stack of great representatives from local businesses who had volunteered their time to help mentor these fledgling teams develop over the weekend. It was an absolutely inspiring experience watching these groups of people - many of them strangers on Friday night - work together towards a common goal.
The event culminated in the final pitches - timed almost spookily to coincide with a shattering hail storm that swept through Brisbane and drenched several attendees who were unlucky to be outside when it passed through the Valley - and on Sunday night each team got up and did a great presentation that showcased their idea and their plan to execute it.
Unfortunately as is often the case there could be only one winner - team Pivot, who not only came up with a great idea for a more interactive (and less frustrating) CAPTCHA system, but managed to build a working prototype over the weekend and integrate it into an existing website. (It was so impressive we're actually hoping it turns into a real product so we can look at integrating it into some of our web sites.)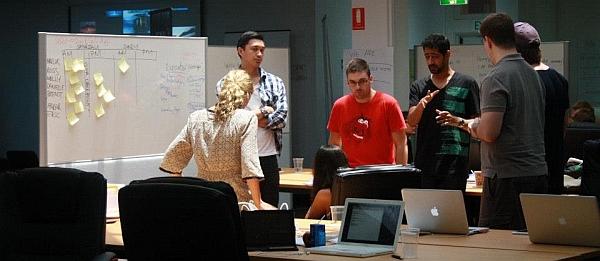 Mammoth was very proud to be a sponsor of this Startup Weekend - we've always felt Brisbane was an amazing source of talent, both technical and creative - and it is great to see events like this at great innovation hubs like River City Labs taking place. They really drive home the message that you're not on your own and that support exists to help get your ideas off the ground.
We were also happy to see that David won a "Best Mentor" award for his efforts over the weekend, although it should certainly be mentioned that every coach there put in an amazing amount of effort over the whole weekend. The participants had great things to say about every mentor there and it was really good to see all of them taking the advice of those who had gone before on board to help develop their idea.
Congratulations to everyone who participated throughout the entire weekend and a huge well done and thank you to River City Labs and the Startup Weekend organisers for making this event happen.

comments powered by Disqus