Social Media Trends and Stats 2014 | Adel de Meyer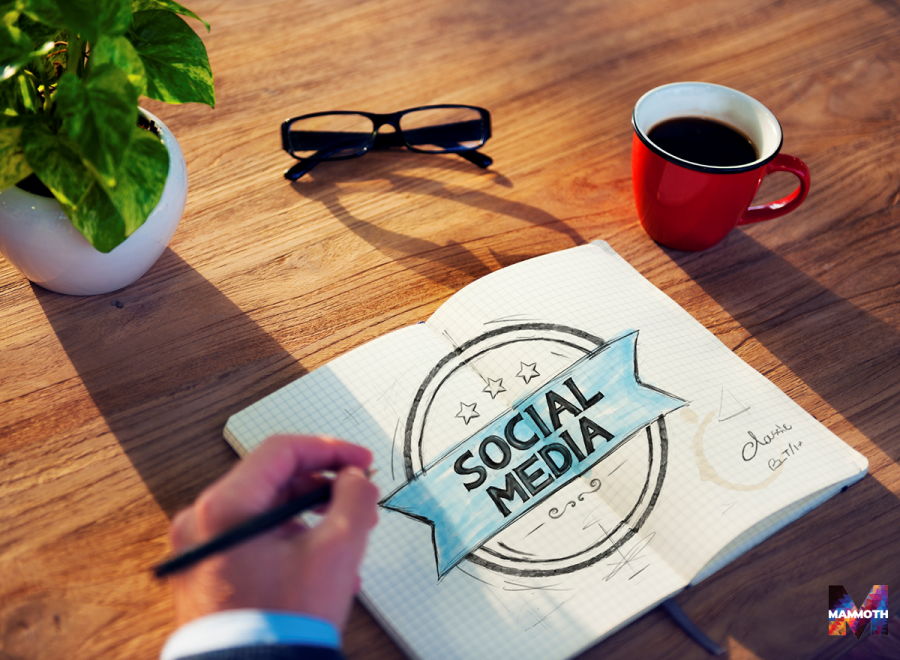 I am Adel de Meyer, the newest member of the Mammoth team. In this blog post I'll outline some key Social Media statistics and current trends (and why it is important to your business!) First though, a little bit more about myself and how I fit into the Mammoth team
I am very passionate about the digital industry and I have local and international experience in customer service, Social Media, SEO and digital marketing. I have worked in various industries across the board including Real Estate, Construction, the Arts, Beauty & Non-Profit.
My passion and skills for social were noticed online by the international brand HootSuite. Early in 2014 I was approached to be a HootSuite Community Ambassador. HootSuite has over 9 million users worldwide and has grown to be one of the most successful Social Media tools in the world. About 10 of the fortune 500 companies use HootSuite to manage and report on their Social Media campaigns including brands like WWF, Virgin and Sony Music.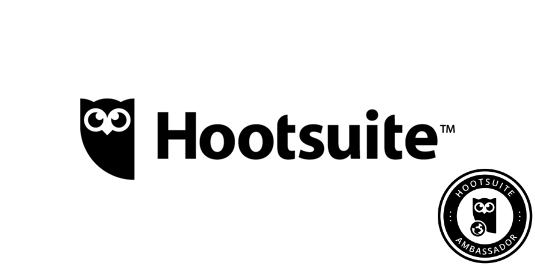 As an Ambassador, I advocate HootSuite products and services, share content including blogs on their networks, provide regional insight and product feedback, and create a strong regional presence both online and offline. I also host local HootSuite events called a #HootUp – Keep a look out for the #HootUpBNE hashtag on Twitter to attend the Brisbane event.
As the Social Media Administrator at Mammoth I am using my creativity and skills to help businesses in Australia succeed online by implementing and growing their digital strategies including SEO, SEM and Social Media. My role also involves working closely with the Mammoth design and development teams to ensure complete campaign and project consistency.
It's proven that any business can succeed in SEO and Social Media by following best practises, having a social strategy & presence in place, providing good quality content that is up to date and a well-structured website.
2014 Social Media statistics identifying key focus points that I would like to highlight:
1. Cross-platform development is essential:
To date in 2014, 71% of social media users accessed social via Smartphones, compared to only 38% via desktop. As a business owner you cannot afford to have a non-responsive website anymore.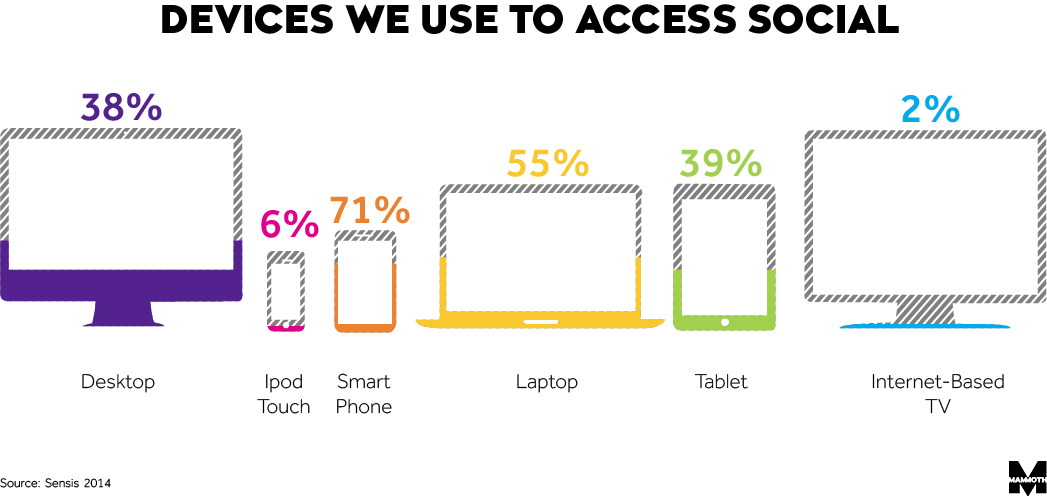 2. Facebook is still dominating:
69% of Australia uses Social Media and 99% of those are on Facebook. That is over 13 million users. With the recent changes to Facebook news feed algorithms, organic reach has plummeted forcing companies to invest in more Facebook paid advertising. Having a good Facebook ad campaign with quality content will be the key to success for this platform at present.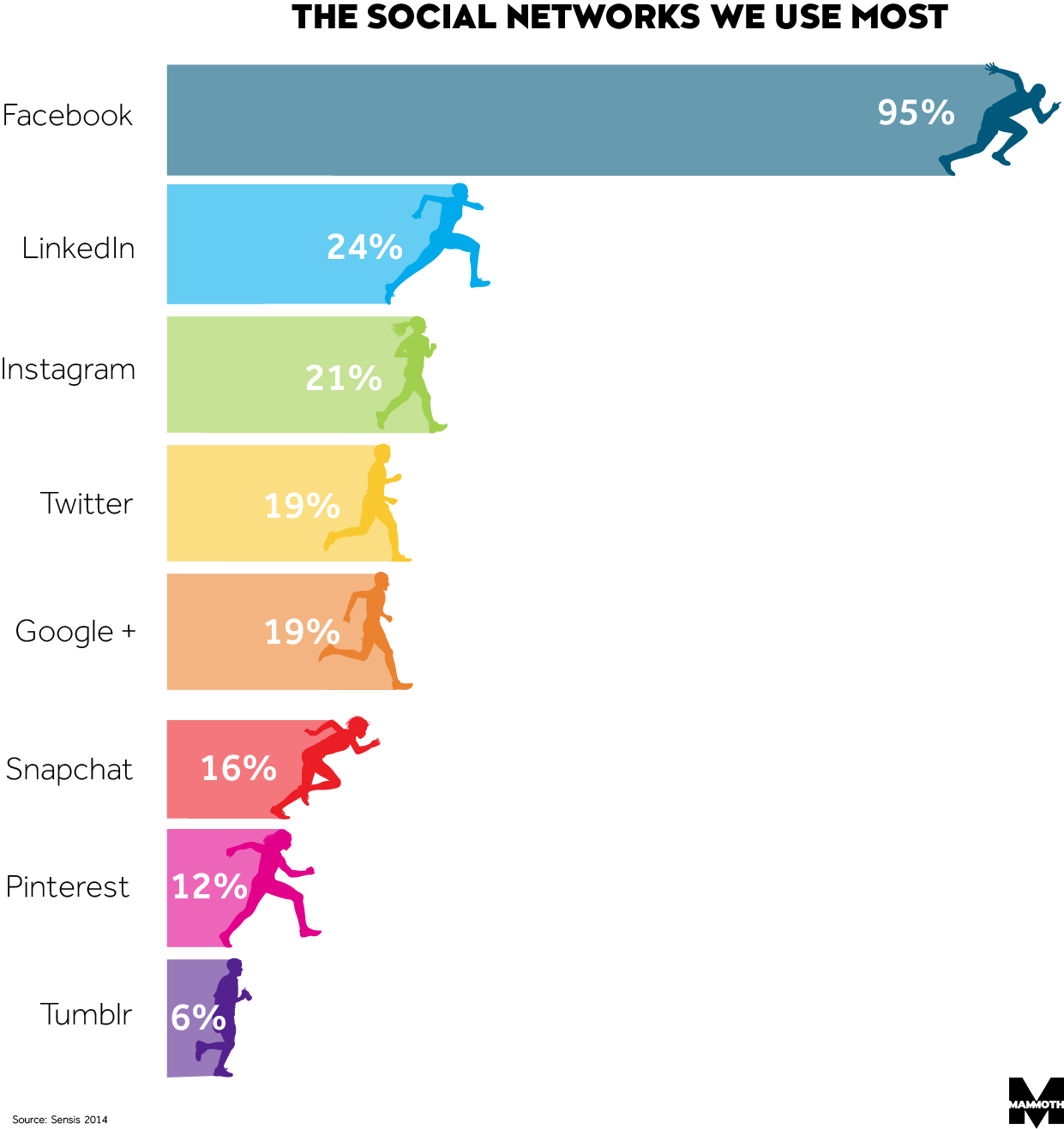 3. Have a social presence throughout the day:
Having a well thought out Social Media strategy is critical to ensure engagement via the correct platform at the right times.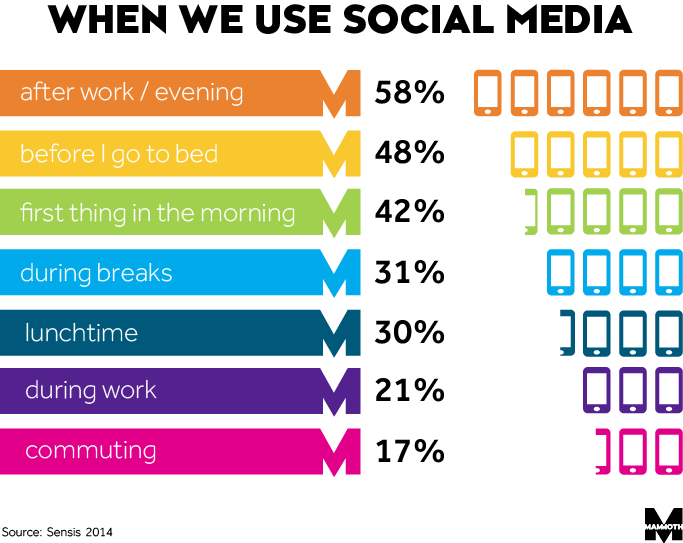 Don't keep your business online just during 'business hours'. 42% of Australians access Social Media first thing in the morning. As a business you have a chance to make that 'first impression' right at the start of your potential customer's day. After work the figure is as high as 58%. It shows how important it is to plan and schedule content at the right times, not just 9-5. The key is to have a 3 month content plan in place for your business.
4. Aussies love to be social:
19% of Australia's Social Media users access networking platforms at least 5 times a day. Sharing photos and videos are the number one activity.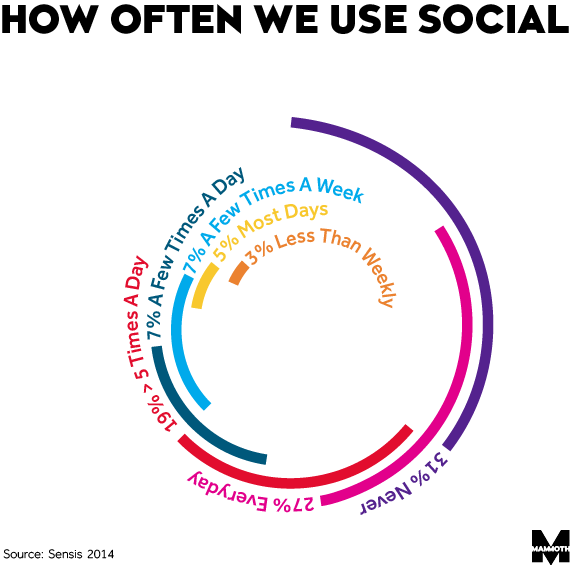 It is worth mentioning that 99% of Australians access the internet daily and 53% of them at least 5 times a day. So what we can take away from this statistic is that outstanding user experience is vital when it comes to your business's presence online. Having a website that is responsive, fast with a quality user experience is a must.
Social Media Trends in 2014
Video
The use of micro-videos like Vine and videos via YouTube are on the rise with about 87% of online marketers' world-wide using video in their marketing strategies this year according to Outbrain. One YouTube user, who makes gaming videos called PewDiePie, has over 27,431,667 subscribers. The popular song by PSY called Gangnam Style broke the world record with a staggering 2 billion views by June 2014. Top Australian brands on YouTube include Coles, Virgin Australia, Nab and Boost Mobile. "Brand Vines are shared 4 times more than other online videos, and 5 Vines are shared every second on Twitter," says Heather Taylor, a vice-president at Ogilvy. The popularity and reach of Vine content cannot be underestimated. Below some statistics on video:
According to an Australian Real Estate Group, real estate listings that include a video receive 403% more inquiries than those without.
According to Forrester Research it is 50 times easier to achieve a page 1 ranking on Google with a video.
Blog posts incorporating video attract three times as many inbound links as blog posts without video – (SEOMoz)
Online video now accounts for 50 percent of all mobile traffic and up to 69 percent of traffic on certain networks. (Bytemobile Mobile Analytics Report)
92 percent of mobile video viewers share videos with others. (Invodo)
Videos are shared 1200% more times than links and text combined. In our age of sharing (apartments, cars, cat photos, the list goes on!), your reach can be even wider, if you're creating content that your users want to share. (Orion21)
90% of online shoppers find brand videos helpful when making a purchasing decision and 65% of consumers will visit a brand's website after viewing a video to learn more. (YouTube)
Instagram
Instagram now owned by Facebook has more than 200 million users world-wide and about 1.4 million active Australian users. Instagram is a great tool for getting 'behind the scenes' of a brand, something many people wouldn't get to see normally. Instagram is a great social tool for connecting with your customers easily, as well as for building brand awareness and engagement. Instagram recently announced that ads will be coming to Australia later this year.
Photos generate up to 87% more engagement than shared links or status updates (Socialbakers)
Engagement on Instagram is roughly 60 times higher than Facebook. (Forrester research)
Instagram app usage has grown by 25% the last 6 months (Globalwebindex)
With over 150 million users, 16 billion photos shared, and 1 billion likes happening each day, the photo-sharing and editing platform is one of the most engaging channels on Social Media.
Google+
Google+ is named the second biggest social network in the world. When you consider that Google+ has only been around for less than three years, then it is a success on many levels. Google+ is growing by 33% per annum and now has over 350 million active monthly users world-wide. More and more brands are realising the potential of including Google+ in their social strategy. With Facebook organic reach declining so much in 2014 and Facebook users complaining about too many ads, I believe that we will see a significant growth in Google+ for business. It is estimated that sharing on Google+ will surpass Facebook by 2016 according to Searchmatrics.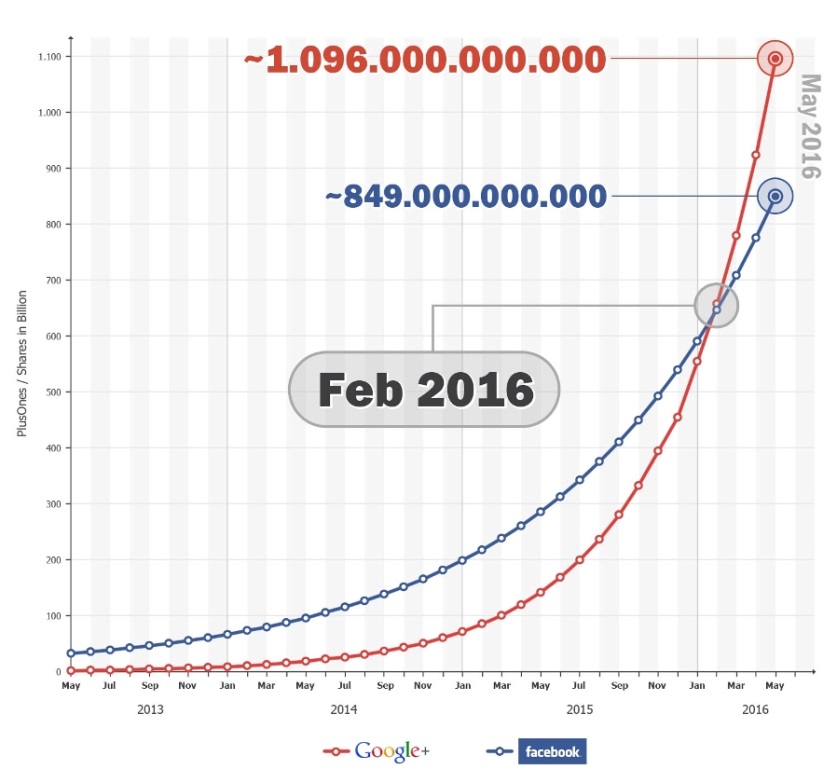 Top Australian G+ Brands currently in Australia as per graphic below (SocialBakers stats)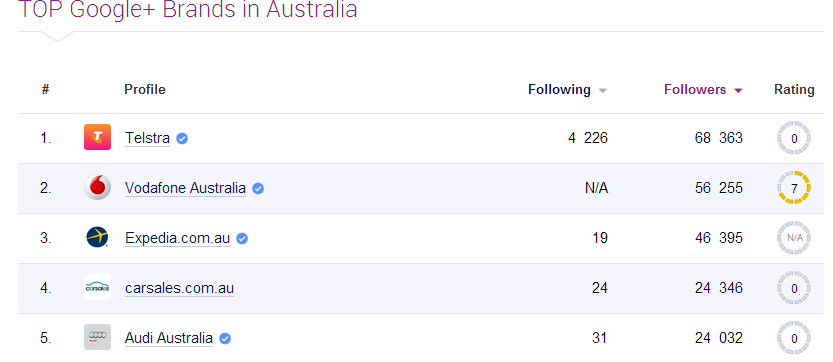 Mobile Marketing
More people are accessing Social Media and websites via mobile than ever before. Australian consumers are leading the mobile revolution and many businesses are still lagging behind in their mobile marketing strategies. Smartphones and tablets will make up 87% of connected device sales by 2017 according to Forbes. Here are 6 stats you need to know about:
Australian smartphone usage are amongst the highest in the world (per capita)
Australians are spending an average of nearly 2hrs on their smartphones every day
The average Aussie has over 33 Apps installed and more than one in two use their smartphone to access newspapers and magazines.
Mobile is more measurable. Unlike other ad mediums such as TV and radio, mobile marketers can better track clicks, App downloads and leads.
71% of Australian social media users access social via Smartphones.
All Top Brands Lost Web Users To Mobile In 2013 (Nielsen)
Remember on mobile it is an experience with your brand, not a device!
I am looking forward to see the growth in Social Media, mobile and greater focus on UI and responsive design in the next 5 years. At Mammoth we keep up to date with all the latest trends, technologies in Social Media, software development and web design. We like to offer our clients a 'one stop digital shop' experience so get in touch to find out about our SEO, Social Media and digital solutions.
Connect with us on Social Media at:
Twitter: @MammothAU
comments powered by Disqus