In February, Mammoth Media was invited to participate in a Trade Mission to the USA and Canada, a joint venture organised by the Queensland Government and Microsoft. Needless to say, we were extremely excited to get the opportunity to join with some of Queensland's best ICT providers, technology companies and start-ups to showcase the depth and breadth of talent available in the Sunshine State.
Mammoth Director David Harrison climbed into the best winter gear one living in Brisbane usually has - jeans and a jumper - and made the trek over to chilly Seattle for the first part of the journey - visiting the Microsoft company headquarters at Redmond.
Microsoft Headquarters - Redmond, Washington
As it turns out, calling it a mere "headquarters" is a bit of an understatement - it's more like a small town, complete with it's own shuttle bus system, shops, soccer fields, gym... pretty much anything. It's impossible to explain the sheer scale of this place, but if you watch this video it'll give you some idea.
Our primary mission in Redmond was to visit the Executive Briefing Center, Microsoft's extremely impressive environment for talking to big corporates and government to discuss the sorts of massive deals that allow you to build a campus the size of a city. We were in some pretty impressive company there...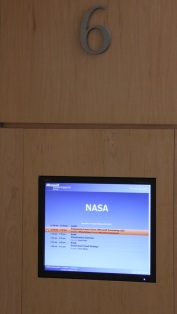 After recovering from a bout of jaw-dropping amazement, we made our way into our EBC boardroom, which is where the mission really got under way. Over the two days we were there, Microsoft presented a huge amount of information about their upcoming product line and offered vast insight into existing products and services. This was utterly fascinating as I was exposed to a variety of products that I knew little about, and also caught a glimpse at Microsoft's roadmap for the coming years (unfortunately, we can't share too much about this as it is still classified stuff - suffice to say, there's an interesting future ahead of us).
Geeking out aside, one of the big reasons we were there was to learn more about the Microsoft Partner Network. While Mammoth has been using Microsoft technology for years - many of the big sites we build are ASP.NET running on Windows, and our own VPS site is as well) - our exposure to Microsoft-the-company has been relatively small. We've been focusing on making great products with Microsoft tools, but have unfortunately been somewhat ignorant of everything else Microsoft offers to developers.
After a great presentation on the partner programme and discussion with some of the other awesome Queensland companies that were there - many of them Microsoft partners already - it quickly became clear that the benefits for being a partner are extremely real and most definitely worth following up. This is something we are now very actively looking into as a major priority for Mammoth Media. While we will always be "platform agnostic" developers - ensuring we can work on pretty much any software system clients have in place or want to use - it is clear that our depth and breadth of knowledge and experience in the Microsoft development ecosystem is likely going to waste without being more directly involved with them as partners.
Vancouver, Canada
After the Seattle visit, a lot of the other Trade Mission participants went home, while the rest of us made our way up to Canada for another purpose. The Queensland Government had organised a networking event as well as several briefings with local industry groups - including the British Columbia Technology Industry Association (BCTIA) and an "accelerator" called Wavefront.

The networking function was great fun. We were given the opportunity to give a quick spiel about Mammoth to a captive audience of local companies and then spent a very entertaining evening chatting with them further about what we do, and in greater detail. The Mammoth story is always something people seem to really enjoy hearing - from our origins running gaming LANs in small dark rooms to writing enterprise software for massive telcos - and I had some great conversations with some really cool people. Then went and had beers with some of them and watched the hockey - Canadian indoctrination, apparently.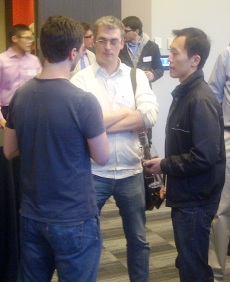 However, the most notable part of this trip was sitting down with the BCTIA and with Wavefront to hear how industry and government work together in B.C. to really support technology companies. Simply put, the offerings in Vancouver had almost everyone in the room wondering how we could easily pack up and shift our respective companies over here immediately.
It's clear that the government of B.C. recognises the importance of the digital economy and go to incredible lengths to help fund these industry associations to ensure that this sector can continue to grow. Vancouver is now a bustling hub of the digital scene, experiencing huge growth across the board - especially in digital media industries, like video games - with a stack of new start-ups kicking off all the time because of the great local support.
It was encouraging to be there with a delegate from the Queensland Government so that our group was able to provide real-time feedback (e.g. - "we're all moving to Vancouver because this is so awesome and we don't have it at home!"). Thankfully the sentiment was noticed and we're now living in hope that we'll see the influence of this trade mission back home at some point in the future!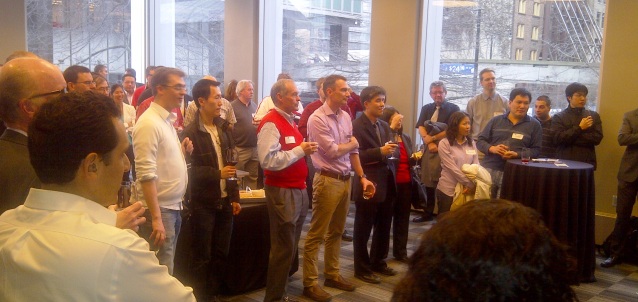 Overall...
A great trip. It was massively educational for me and will certainly inform the direction Mammoth is taking in terms of our approach to the market. It was great to get an inside peek into the operations of Microsoft and a look at where their products are going in the coming years. Chatting to industry groups was similarly enlightening and has certainly opened our eyes to what options are out there outside of our own home state.
It was also great to meet the members of the trade mission itself! We had a great crowd. A wide mix of companies ranging from bigger ones like Mammoth to single person start-ups working on fascinating projects. Everyone got on really well and in between the work stuff we managed to have some great dinner-and-drink sessions where we got to discuss our respective businesses and what we were getting out of the experience.
Downtime!
It wasn't all work, but unfortunately the schedule was pretty packed and we didn't get a huge amount of free time. I tried to make the most of what little we did get. In Seattle I took a quick trip to the well-known Space Needle and even managed to sneak in a trip to the EMP Museum, where I was stoked to see they had a Battlestar Galactica Exhibit!
Vancouver was even busier, but we had one spare morning so a group of us jumped in a taxi and ducked up to Grouse Mountain, a skiing mountain right next to Vancouver. It was a little weird being in downtown Vancouver - your typical bustling metropolis of skyscrapers - and then 25 minutes later being at the top of a snow-covered mountain, walking through this incredible scenery in knee-deep powder.
comments powered by Disqus