Mammoth Get Collaborative
In collaboration with Arup Australasia, Mammoth have developed a collaborative mapping tool to allow the general public to comment on and view the Woolgoolga to Ballina Pacific Highway upgrade.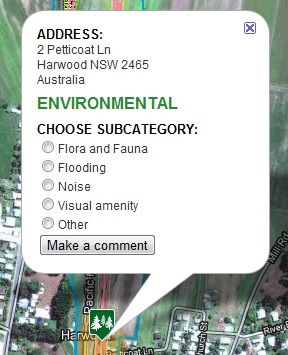 Arup was engaged by NSW Transport, Roads and Traffic Authority (RTA) to manage and collate community feedback on this major road project. Arup approached Mammoth Media to develop a map based feedback mechanism to assist with this particular project, as well as similar future projects.
We were able to develop the solution from end to end within four weeks by utilising a tight process, coupled with some brilliant work from Cameron Coley, and of course excellent support from our client, Arup.
The tool is a 'light weight' mapping application that is viewed in a standard Internet browser and uses the Google maps interface as its source of mapping data. The tool aims to allow people to participate in engagement activities and provide information from their own computers, thus broadening the reach of engagement programs. It also aims to gather useful
data to assist project teams in mapping constraints associated with planning proposals by enabling stakeholder comments and their associated locations to be drawn into a GIS environment for further analysis and visualisation.
The tool tightly integrates with Arup's own GIS systems based on arcGIS for it's layer information, and is hosted on Arup hardware.
Take a look!
comments powered by Disqus