How Web Development is like building a Coffee House - Infographic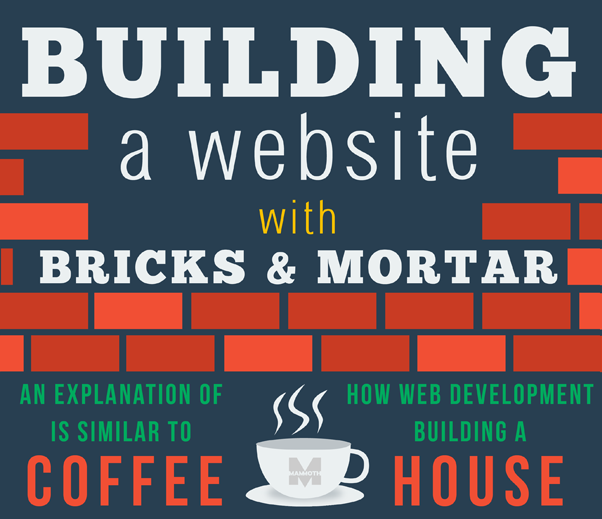 Here at Mammoth, we decided to create an easy-to-understand infographic, to explain the basics of web development to our clients.
When developing a brand new website, you need to consider many things, such as choosing the domain name and the hosting, establishing the purpose of the website, deciding upon the content, and so on. This infographic outlines the basic web development steps in layman's terms and what they mean.
Domain name > Address:
The street address of your new coffee house. The web address, for example: www.mammoth.com.au
Hosting > Land:
Choosing your piece of land, the location where all your files will be stored online.
Wireframes > Architect:
Low-fidelity designs of your website (like building plans) that shows you a rough layout for your website.
Code > Slab & frame of house:
Just as the slab and framework of a house create the support structure for the rest of the building, code is used to develop a base for a website.
Code > Wiring/Switches:
Behind all of the lighting and appliances in a building there is wiring and switches. These are another form of Code that create functionality and interactive elements of design.
Design > Interior/Exterior of coffee house:
Planning the placement of windows, paint colour and furniture etc is important to make the coffee house meet building requirements, as well as to help target their demographic.
Testing > Building inspection:
Having your building inspected requires testing its features and functionalities to make sure industry standards are met.
Contact forms > Suggestion box/loyalty card:
Promoting your coffee house is important. Allowing your clients to communicate with you makes them feel important and creates channels between the two parties.
Social Media > Launch party:
Launching a new website out onto the internet can be a bit like a launch party for a coffee house – you need to get social to get the invites out using Facebook, Twitter and Google plus.
SEO > Yellow Pages:
Listing your new coffee shop in the yellow pages so that people can find your business is like making sure that your website can be easily searched on Google. SEO is used to help your website get ranked higher in Google search results.
Security:
Locking up your coffee shop to prevent burglars is important, just as it's important to lock up your files and passwords for your website online.
The effective planning of a website will make its development a lot easier and will lead towards success. So, in order to have a clear picture of what you need and the process you should check out this infographic below:

View an enlarged version of this Infographic »
Embed this Infographic On Your Website
comments powered by Disqus